About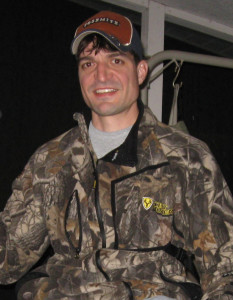 About me. I was born and raised in southeast Pennsylvania. My greatest passions in life as a child were fishing and archery. As I grew into my teenage years, my love for bow hunting whitetail deer superseded all other desires!
Around the age of seventeen, I watched my very first hunting video, and I was hooked on the idea of one day making my own hunting videos for people to watch and enjoy. I just wanted to be a professional bow hunter, it was that simple. As a result, I saved up my money and purchased a video camera in 1995 and started filming hunts with friends. Not long after I started filming, I had what I would call a spiritual awakening or a "God moment." It changed my life for the better, but also made me second guess my efforts to go pro in the hunting world.  Years passed and many crazy life turns took place, but finally, in 2009, I began editing the footage I had accumulated over the years. Eventually, I produced my first couple hunting videos. Through the urging of a friend, I began uploading them to Youtube. You can check out my channel on the following link YouTube channel.
Also, in 2009, my first book on hunting went to print, titled, Becoming a World-Class Hunter. In 2014, I released a second edition of that book with a new subtitle, A Bow Hunter's Spiritual Journey. This was done to help highlight the spiritual dimension of the book. In 2014, I also released a book on archery, titled, Sin and the Spirituality of Archery. It is designed to help beginners learn archery and advanced shooters to improve their accuracy. It also introduces ideas that enable the reader to gain unique, spiritual insights from archery that can be applied in everyday-life situations.
Another exciting progression that has taken place over the years is that I developed a challenge hunt called The Map Reading Challenge. The design of it is intended to push hunters to improve their ability to read topo maps and aerial photos to find hunting hot spots before ever even setting foot in the woods in those areas. I then came up with a scoring system so that people could track their progress.
More recently, I was asked to be on the Hunt Team for the Allen Company, and I also was selected to work on a project with Drury Outdoors, both of which are exciting endeavors.
Lastly, I have started working on a sequel to my hunting book. It is something I have been wanting to do for years now, and I am happy that the production and writing of it is underway. Being a stay-at-home father of 4 kids, I realize that it might take me a long time to finish, but at least it is in the works now.